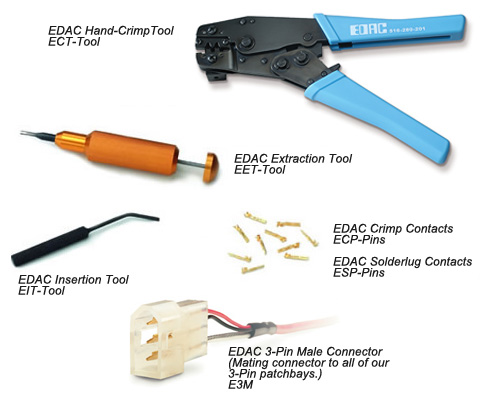 Tooling
Remember, all SHORTI patchbays are shipped with mating connectors (E3M) and crimp pins. However, if you don't have either an EDAC or ELCO Crimping Tool, we recommend either purchasing one or using solder pins (Order# ESP-PINS). Other tooling accessories and order numbers are shown at right.
Patch Cord Holders
These solid and durable patch cord holders are available for Audio 1/4" Long-Frame and MINI, and Video Patch Cords. They will hold up to 50 patch cords each, tilted at a convenient angle for easy access. For our audio line patch cords click here.
Rubber-Jacket Patch Cords
These cost-effective patch cords have nickel-plated plugs and are available for both 1/4" Long-Frame and .172" MINI.
Polysand
Polysand is the quick and easy way to remove tarnish and oxide from brass audio plugs without removing the metal. Easily outperforms chemicals and harsh abrasives, in a fraction of the time. Available in single sheets and in packages of 10.