2x48x2RU (Order No. WEP-962-SH)
TRS out only; Quick-Switch™ normalling. For use with analog or digital.

For exceptional flexibility, check out Audio's exclusive Quick-Switch™ normalling system. Available in 1RU, 1.5 RU and 2RU, these 172" MINI (Bantam/TT) patchbays have the Tip, Ring, and Sleeve of each jack out to individual 3-Pin EDAC connectors. Then it's mounted on the rear of a 3-inch deep "SHORTI" box, with a cabling support tray behind for bundling incoming cables.

The Quick-Switch™ normalling pod (located on the rear of the unit) allows you to set the individual normals on a per jack-pair basis. This enables you to full-normal (FN), half-normal (HN), or non-normal (NN), individual bussed grounds (B) on a per-row basis. You can also have the unit share a common (bussed) ground, or the grounds can be vertically strapped (GVS).

To change any normal, simply pull the panel out from the front and move the Quick-Switch™ shunt to the desired setting.


Detailed view of normalling pod settings. All units supplied half-normalled and bussed grounds as viewed above.

---


2x48x1.5RU, Digital ready, WEP-9615-SH

2x48x1RU (Order No. WEP-961E-SH)
TRS out only to 3-Pin Connectors; Quick-Switch™ Normalling. Digital Ready.

Now available in 1RU, 1.5RU and 2RU!



MINI SHORTI
highlights
• 96 3-Pin male mating connectors (E3M) and 288 crimp pins supplied with panel.
• All units shipped half-normalled unless otherwise specified.
• We suggest leaving a 1-foot service loop for ease of changing normalling.
QUICK-SWITCH™
NORMALLING POD SHUNT SETTINGS FOR WEP-962-SH PATCHBAYS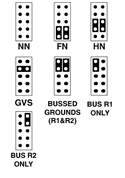 FN=Full-Normalled
HN=Half-Normalled (Row 1 to Row 2)
NN=Non-Normalled
GVS=Grounds Vertically Strapped


QUICK-SWITCH™ NORMALLING
SWITCH SETTINGS FOR WEP-961-SH AND
WEP-9615-SH PATCHBAYS

FN = Full-Normalled
HN = Half-Normalled (Row 1 to Row 2)*
NN = Non-Normalled
GVS = Grounds Vertically Strapped
GB = Grounds Bussed (Row 1 and Row 2)*
* All units shipped Half-Normalled (HN) and Grounds Bussed (GB)